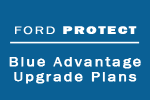 Drive On With Blue Advantage
When it comes to safeguarding your financial commitment, purchasing an extended service plan like the Ford Blue Advantage – Blue Upgrade is a prudent decision. In addition to helping to ensure that your car continues to function well for many years to come, it will also safeguard you against any unforeseen costs associated with covered repairs.
Find the coverage plan that best suits your needs. We are aware that each automobile, each motorist, and each financial situation is unique. When you decide to purchase additional protection for your Ford Blue Advantage - Blue certified car, you have the opportunity to select from a number of different policies that vary in terms of duration, mileage, and component coverage.
In addition to any remaining standard warranty coverage, the Ford Blue Advantage - Blue Upgrade Plans offer mechanical coverage for Ford cars (Lincoln vehicles are not included).