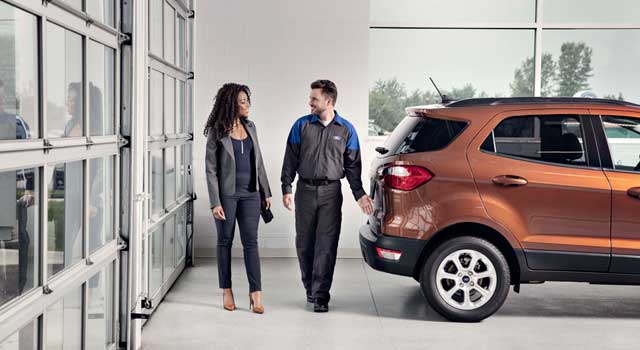 How do I go about getting a rental car when I need a repair?
First, let the Ford Service Department person assisting you know that you have a genuine Ford Protect vehicle service contract on your car or truck and
The Ford Protect Contract states that - Failure means a cessation of normal mechanical or electrical functioning of the Vehicle components covered by the Agreement that arises from defects in materials or workmanship or caused by normal wear and tear covered by this Agreement.
that you will need alternate transportation while they are working on your vehicle. They are then able to verify this in the Ford OASIS database by entering the VIN of your vehicle. However, rental vehicle availability may vary from dealer.
Keep in mind that your rental benefit only kicks in if you are leaving your vehicle at the dealership because of the failure of a part or component that is covered under your Ford Protect plan. Your Service Advisor will be hesitant to offer you a rental until the cause of the failure has been diagnosed.
Basic rental benefits can be used if a vehicle must be kept overnight to complete a covered repair. Rental coverage will begin the day the repair begins. Unless, a vehicle is determined to be inoperable at the time it is left for service (or further driving would damage the vehicle or render it inoperable) and must be kept overnight, rental coverage will begin the day the vehicle is dropped off
Customers must return the rental vehicle by the end of the business day on which the repair is completed. Retention of the rental vehicle beyond that date will be at the customer's expense.
Common ways local dealerships may handle rentals.
The Ford dealer may have an on-site loaner or rental car program that is used to assist their customers with their transportation needs. This is usually the easiest way for a dealer to coordinate a rental vehicle with their Service Department in the administration of submitting a rental claim with a covered repair claim to Ford Protect for payment.
The Ford dealer may have an arrangement with a local vehicle rental franchise, such as Enterprise or Hertz, where they are able to coordinate alternate transportation for you and obtain a copy of the rental invoice to include in the final claim submission to Ford.
The Ford dealer may not have a customer transportation assistance program available, nor an arrangement with a local vehicle rental franchise. In this scenario, if you arrange for a rental vehicle yourself, through a commercial vehicle rental business, be sure to make the Service Department person handling your repair claim aware that you will be renting a vehicle and will provide them with a copy of the paid rental receipt for submission with the repair claim.
Rental Reimbursement Does Not Apply To:
The days and nights the vehicle is held prior to the start of service on the covered repair because of shop scheduling or because parts are not available unless the vehicle was inoperable at the time it was left for service
Rental charges for a vehicle supplied by other than the dealer or commercial rental agency
Repairs required to correct incomplete or improper repairs (shop comebacks)
Mileage charges, drop-off fees, insurance or gasoline
Operable vehicles having warranty or Ford/Lincoln Protect Extended Service Plan repairs that could have been completed the day the vehicle was dropped off for service but were not performed and the vehicle was held overnight
Rental days that were beyond the repair completion date
The following programs/warranties are not eligible for Ford/Lincoln Protect Extended Service Plan rental reimbursement unless the causal part is covered by Ford/Lincoln Protect Extended Service Plan at the time of repair and the vehicle is beyond the New Vehicle Limited Warranty:

Emissions Warranty
Powertrain Warranty
5-year/100,000-mile Diesel Engine Warranty
Corrosion Warranty
Service Parts Warranty
Customer Loyalty Program (CLP)
12-month/12,000-mile Reacquired Vehicle Warranty
Safety Restraint Warranty