Protect your Lincoln with the most all–encompassing extended warranty that is available for your Lincoln. Because our Premium Care plan protects over 5,000 different components, your car may continue to be protected from the need for pricey repairs. This plan is offered for a range of years and mileages; thus, feel free to browse our website in order to choose a plan that is tailored to your specific needs. With Lincoln Protect, you can rest assured knowing your extended warranty is backed by the Ford Motor Company, which means you can expect only the best benefits. When it comes to protecting your Lincoln, you need an extended warranty plan that works with your needs and budget.
Need An Official Lincoln Extended Warranty?
Your car is the starting point for the journey into the unknown, and you are the one behind the wheel. Utilize a Genuine Lincoln Protect extended warranty to make sure the journey never comes to an end. Our extended warranties provide you the assurance that your vehicle's manufacturer warranty coverage for mechanical repairs will continue even after it has expired. This gives you the peace of mind that you deserve. You may travel the country in your automobile without worry since you have purchased the best coverage posible at a great price.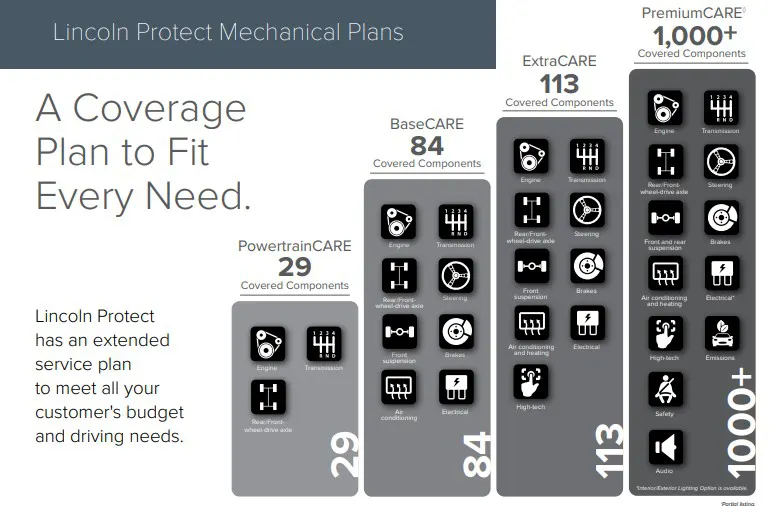 Investment Required for the Right Equipment!
Independent repair shops typically don't invest more than $300,000 in the required tools and equipment to service Lincoln vehicles ‐ let alone all the other brands they service. Lincoln Protect has the right equipment to repair your Lincoln the right way.
Understanding Advanced Technology!
Did you know that there is more technology in your Lincoln today than what was sent to the moon in Apollo 11? Lincoln Protect covers today's and tommorrow's technology.
Protecting You from Inflation!
Vehicle repair prices will rise in the future ... but by how much? Rising labor and parts costs, taxes and other expenses always get passed on to the consumer. Lincoln Protect can save on unexpected covered repairs down the road.
Fix It Right the First Time!
Lincoln Senior Master Technicians complete more than 500 hours of Lincoln‐specific training.
Dealership technicians attend more than one million hours of technical training annually.
The average Lincoln dealership invests more than 250 hours (31 days) in technician training each year.
Lincoln Protect has the right people to repair your Lincoln the right way.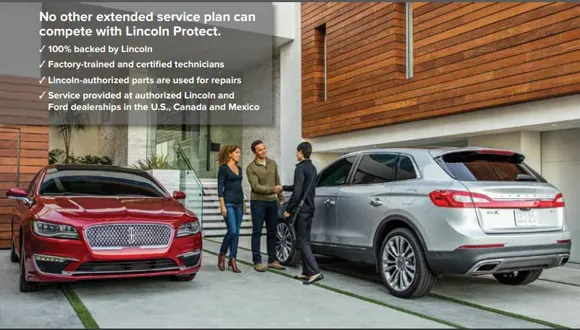 Coverage From The Company That Built Your Lincoln!
There are many extended warranty companies that say that they offer an extended warranty for a Lincoln, but there is only one that is from Ford, covered by Ford, backed by Ford and good at every Ford & Lincoln dealer in the country and that is Lincoln Protect. There is no better coverage, available anywhere for your Lincoln, than Lincoln Protect.
America´s Top Online Seller!
Because we provide our customers a fantastic bargain in addition to exceptional customer care both during and after the transaction, we have risen to the position of being the leading online supplier of the official Lincoln Extended Service Plans. Our hardworking, well-informed, and polite staff is appreciative of each and every customer that they have the opportunity to serve, and we eagerly anticipate having the opportunity to earn your business.