Create A Plan That Is Personalized For You!
Ford Protect provides you with a broad variety of options for extended warranty coverage, all of which may be customized to meet your specific needs. We strive to make it as simple as possible for you to personalize a plan so that it completely meets all of your requirements. You are going to be blown away by how reasonably priced and adaptable our coverage options are. We have a protection strategy that is affordable for people of varying budgets and lifestyles.
The Cost Of Repairs Can Quickly Add Up!
If you have a Ford Protect Extended Service Plan and your Expedition requires repairs, all you will be responsible for paying is the deductible for any eligible repairs; Ford will pay for the remaining costs. Over a thousand important components are protected under our Ford Protect PremiumCARE Extended Service Plan. And if you didn't have it, the average cost of repairs would probably end up being more than the price of your extended warranty plan. It's a situation that nobody wants to experience, but it's comforting to know that your vehicle service plan will be there for you if something goes wrong.
When you make your decision to get Ford Protect sooner rather than later, the sooner you'll be able to hit the road with complete and total confidence that Ford Protect will be there when you need it. Ford Protect can help you get ready for anything by providing you with a personalized vehicle service contract that you can purchase today. Don't let life's unexpectedly high costs for repairs leave you destitute and stranded on the side of the road.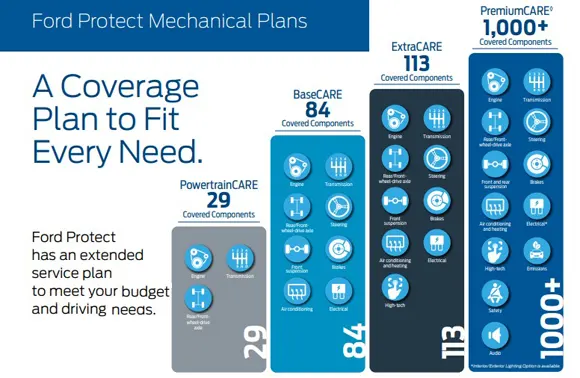 Coverage From The Company That Built Your Ford Expedition!
There are many extended warranty companies that say that they offer an extended warranty for a Ford, but there is only one that is from Ford, covered by Ford, backed by Ford and good at every Ford dealer in the country and that is Ford Protect. There is no better coverage, available anywhere for your Ford Expedition, than Ford Protect.
America´s Top Online Seller!
Because we give our customers a great deal and top-notch customer support before, during, and after the transaction, we have earned the title of the best online seller of the official Ford Extended Service Plans. Each and every customer is appreciated by our devoted, competent, and polite team, and we look forward to gaining your business.