Protect Your Investment!
You've worked hard to save up and buy your Lincoln MKZ. Do you really want untrained technicians working on it, using generic or even used parts? Why not protect your investment with the best coverage possible? It doesn't mean that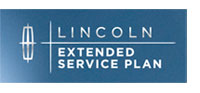 you have to pay more. Most aftermarket/third-party companies would have a hard time beating our pricing, even though they offer inferior coverage. Do you really want to go to battle on every claim? Third-party warranty companies nit pick every claim. They try to negotiate labor hours, hourly rates, parts prices and other incidential charges, oftentimes leaving you to pick up the difference. Why put yourself in that position?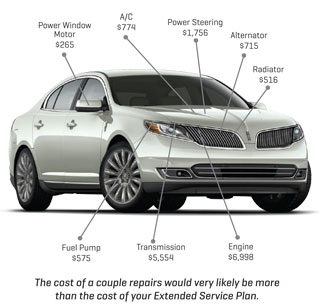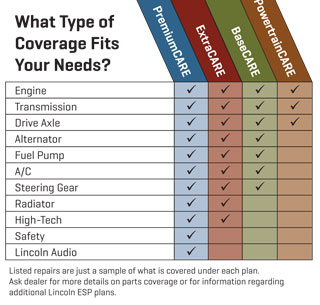 Coverage From The Company That Built Your Lincoln MKZ!
There are many extended warranty companies that say that they offer an extended warranty for a Lincoln, but there is only one that is from Ford, covered by Ford, backed by Ford and good at every Lincoln dealer in the country and that is Lincoln ESP. There is no better coverage, available anywhere for your Lincoln MKZ, than Lincoln ESP.
Insist on the best!
Ford does not want this to be the last Lincoln MKZ you'll ever own. They want you to be happy with your purchase and tell others about your ownership experience. They know that an Lincoln owner that is covered by Lincoln ESP will be much more inclined to purchase another Lincoln product if they have had a good experience with Lincoln ESP. Lincoln looks at the big picture. Sell a good product, provide a good ownership experience and the customer will buy more Lincoln products. It's that simple!

Try This Pre-Purchase Test
Walk into the service department of your local Lincoln dealer. Tell them that you have a problem with your Lincoln MKZ and your have Lincoln ESP. See the smile on the Service Advisor's face. Lincoln dealers are self-authorized to handle most claims. They don't need to call anyone to get permission to fix your Lincoln. They don't have to negotiate with the warranty company. They don't have to turn to you and tell you how much you have to pay for a repair that should have been fully covered!

Repeat the step above, but this time tell the Service Advisor that you have a third-party warranty. Watch there eyes roll back as they think "here we go again". Believe it or not, but the typical Service Advisor would like to only give you good news. Ask them about third-party warranties. They'll probably have plenty of horror stories to tell you.
America's Top Online Seller!
We have achieved the rank of the top online seller of the official Lincoln Extended Service Plans because we provide our customers a terrific value along with excellent customer service both during and after the sale. Our dedicated, knowledgeable and courteous staff is grateful for each and every customer they serve and we look forward to earning your business.