Ford unveiled the first model of its sport utility vehicle (SUV) all the way back in 1966, blazing a path to the great outdoors for future generations of Americans. Extended warranties weren't available back then, so all you got was a 1 year warranty with Bronco. Maybe, that's why people traded vehicles so often. Now, Bronco is making a comeback, outfitted with exhilarating power and the capability to go everywhere. It is specially designed and outfitted to carry genuine adventure lovers deep into the wild and untamed places their souls desire to be. The complexity of today's Ford Bronco makes purchasing Ford Protect a must.
Coverage From The Company That Built Your Ford Bronco!
Only Ford's Ford Protect extended warranty is applicable at all Ford dealerships across the country and is fully insured by Ford. There are a number of extended warranty providers that will tell you they can cover your Ford beyond the factory's standard coverage, but only the Ford warranty is legitimate, official, and supported by Ford itself. If you own a Ford Bronco, you need the greatest insurance policy available, and Ford Protect is it.
Safeguard your investment!
Ford Protect PremiumCARE gives you peace of mind by covering you for covered repairs for as long as 10 years or 175,000 miles, whichever comes first. That's way past the coverage of your New Vehicle Limited Warranty. Ford Protect PremiumCARE extended service plan is the best way to safeguard your investment.

Try This Pre-Purchase Test
Go to the service department of the Ford dealership that's closest to you. Inform them that you are experiencing issues with your Ford Bronco and that you have Ford Protect coverage. Take note of the grin that the Service Advisor is sporting. The majority of warranty work can be handled by the dealerships themselves. They do not have to contact anyone in order to receive authorization to work on your Bronco. They do not have to bargain with the firm that is providing the warranty. They are not required to come to you in order to inform you of the amount that you are responsible for paying for a repair that should have been paid in full.

Proceed as you did in the previous step, but this time explain to the Service Advisor that you have a warranty from a third party. Watch as their mouths drop open in disgust as they realize "here we go again." It may be hard for you to believe, but the average Service Advisor wants to provide you with nothing but positive feedback. Inquire with them regarding warranties provided by third parties. They most likely have a lot of terrifying tales they want to share with you.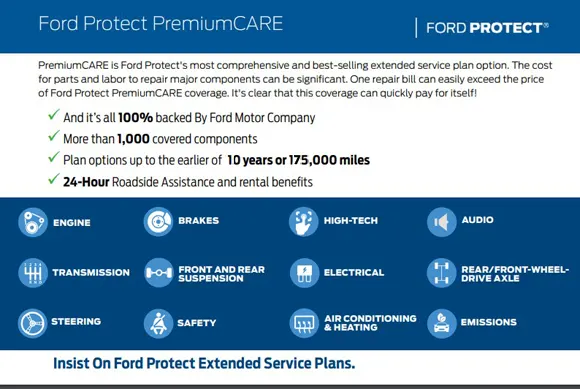 Coverage From The Company That Built Your Ford Bronco!
There are many extended warranty companies that say that they offer an extended warranty for a Ford, but there is only one that is from Ford, covered by Ford, backed by Ford and good at every Ford dealer in the country and that is Ford Protect. There is no better coverage, available anywhere for your Ford Bronco, than Ford Protect.
America´s Top Online Seller!
Because we provide our customers a fantastic bargain in addition to exceptional customer care both during and after the transaction, we have risen to the position of being the leading online supplier of the official Ford Extended Service Plans. Our hardworking, well-informed, and polite staff is appreciative of each and every customer that they have the opportunity to serve, and we eagerly anticipate having the opportunity to earn your business.