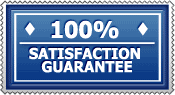 100% Satisfaction Guarantee
If you purchase Ford ESP from us and if you are not satisfied for any reason, during the first 30 days, you can cancel the plan and receive a full refund - no questions asked. We'll never ask you to purchase blindly with any questions left unanswered. Our site is jam packed with information about Ford ESP, including all "the fine print".
Customer Service Support - If you ever have a question about Ford ESP, wish to purchase coverage, or check on the status of your coverage, you can call us at 1-866-379-7095 and our fully trained ESP specialists will be happy to help you. You may also contact us here.
Over the years we have worked very hard to develop and maintain a reputation for providing world-class customer service. You have our commitment that we will do everything we can to ensure that your every experience with us will be a positive one.