What are your plans in the event that your vehicle suddenly becomes inoperable and needs an expensive repair? Are you able to write a check today for $2,000 or more, if necessary? It's not just the big claims you need to worry about; multiple small claims over time can easily exceed the cost of Ford Protect. Your covered repair claims will be paid in full, less your deductible, straight to your dealer if you have an extended warranty from Ford Protect. What could be simpler?
A dealer or seller may tell you stories about how wonderful your Transit Connect is and how reliable it has been in the past, but the reality is that you need to be prepared for Transit Connect to break down at some time in the future. If either the transmission or the engine seizes up, which are both genuine possibilities, you are going to need more than hope to get you through the situation since there is a good chance that the failure will have devastating monetary consequences.
Coverage From The Company That Built Your Ford Transit Connect!
Only Ford's Ford Protect extended warranty is applicable at all Ford dealerships across the country and is fully insured by Ford. There are a number of extended warranty providers that will tell you they can cover your Ford beyond the factory's standard coverage, but only the Ford warranty is legitimate, official, and supported by Ford itself. If you own a Ford Transit Connect, you need the greatest insurance policy available, and Ford Protect is it.
Safeguard your investment!
Vehicles are complicated machines that can break down at any time, no matter how reliable or advanced they are. With a longer warranty, you might be able to save hundreds or even thousands of dollars on repairs. This is especially true for vehicles with high-tech parts that are hard to fix or replace and cost a lot of money.

When Is The Best Time To Buy An Extended Warranty?
It is in your best interest to get an extended warranty sooner rather than later, since doing so might result in a lower overall cost for your warranty. The cost of an extended warranty is based on several factors, including your vehicle's age and mileage. It will be less expensive to get an extended warranty for a brand-new automobile than it will be for an older model. This has the potential to save the owner a significant amount of money throughout the course of the vehicle's ownership.

After you have determined what is and is not covered by an extended warranty, the next thing to ask is how long the warranty will really be in effect. Your choices will probably be limited to a specific amount of years or miles, and you'll probably have a few wiggle room alternatives for personalization. If you want to sell or trade in your car within the next couple of years, you may want to consider purchasing a warranty that is shorter in length. When you buy a new car, you don't have to worry that your warranty will be invalidated, so you can continue to enjoy the perks of having one even after you buy a new car.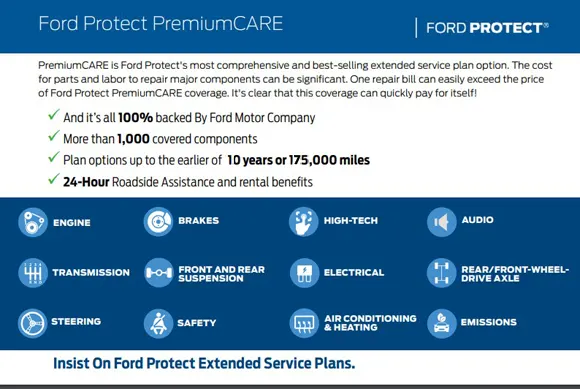 Coverage From The Company That Built Your Ford Transit Connect!
There are many extended warranty companies that say that they offer an extended warranty for a Ford, but there is only one that is from Ford, covered by Ford, backed by Ford and good at every Ford dealer in the country and that is Ford Protect. There is no better coverage, available anywhere for your Ford Transit Connect, than Ford Protect.
America´s Top Online Seller!
Because we provide our customers a fantastic bargain in addition to exceptional customer care both during and after the transaction, we have risen to the position of being the leading online supplier of the official Ford Extended Service Plans. Our hardworking, well-informed, and polite staff is appreciative of each and every customer that they have the opportunity to serve, and we eagerly anticipate having the opportunity to earn your business.